The first four panels of the UK Covid Inquiry's commemorative tapestry have been unveiled at the Inquiry's hearing centre in Dorland House.
The tapestry hopes to capture the experiences and emotions of people across the UK during the pandemic, helping to ensure that people who suffered hardship and loss remain at the heart of the Inquiry.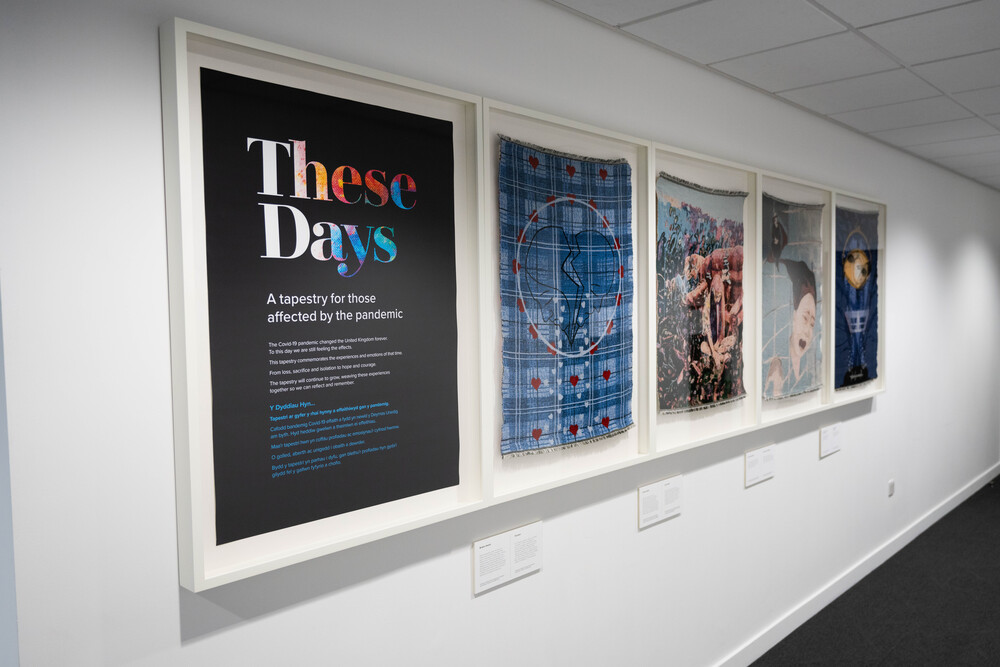 The panels are inspired by the experiences of organisations and individuals from across the UK.
Each panel is based on an illustration by a different artist, following conversations with individuals and communities impacted in different ways by the pandemic.
"Broken Hearts" is a collaboration between artist Andrew Crummy and the Scottish Covid Bereaved group, one of the Inquiry's Core Participants, and expresses the grief and sadness felt by so many at the loss of loved ones.
"Little Comfort" was created by Daniel Freaker, and is his interpretation of some of the emotions and experiences of those with Long Covid, following conversations with members of several Long Covid support and advocacy organisations.
"Eyes Forced Shut" was created by Catherine Chinatree. It explores the disempowerment and loss of freedoms experienced by patients and their relatives in care homes, and follows conversations between the artist and members of Care Campaign for the Vulnerable.
"The Important Thing Is That You Care" was created by artist Marie Jones, following a series of conversations with a bereaved individual in Wales, grieving the loss of her father.
Last month, the Inquiry announced that renowned art curator Ekow Eshun had been appointed to oversee the first phase of the project, with further panels to be developed over the coming months.
The Inquiry will be sharing further information about each of the panels, including from the artists, and those whose experiences helped shape the artwork, and the digital version of the tapestry will be available next month.
The tapestry will also be shown in different locations throughout the UK whilst the Inquiry's work is ongoing. We plan to add more panels over time, so this tapestry reflects the scale and impact the pandemic had on different communities.
The UK Covid Inquiry's commemorative tapestry is one of a growing number of sculptures, creative installations, and community initiatives being developed as the country (and the world) comes to terms with the enormity of the pandemic and its effect on the lives of countless millions of people. Each of these projects brings a unique perspective and adds a powerful new layer of value to the richness of our collective memory.
Organisations interested in getting involved in the project are invited to contact engagement@covid19.public-inquiry.uk.